Vanir is the proud recipient of two 2020 CMAA Gulf Coast Chapter Project Achievement Awards!
Ben Franklin Elementary Mathematics & Science School Renovations, Phase II
Category: Education (Constructed Value Under $10 Million)
Owner/Client: NOLA Public Schools
Final Construction Cost: $4.8 Million
Together with CBRE|Heery, Vanir provided project management and inspection services for the renovation of New Orleans' historic Ben Franklin Elementary Mathematics and Science School. The facility, which is over 100 years old, received a new elevator; roof repairs; a new HVAC system; termite damage repairs; a kitchen upgrade; a new fire sprinkler system; and refurbished windows, doors and floors.
"The joint venture team was outstanding in terms of establishing a culture of collaboration and understanding the importance of updating finishes, furniture and equipment while preserving the historical aspects of the building," said Sue Robertson, Executive Director of Capital Planning for NOLA Public Schools.
The project was part of a FEMA-funded rebuilding program that was established for NOLA Public Schools (formerly called the Orleans Parish School Board) after the levees failed during Hurricane Katrina in 2005.
"The work [CBRE|Heery and Vanir] applied to our lady (building) has restored her splendor and renewed her for another 100 years," said Stephanie D. Foster, Operations Director for the Ben Franklin Elementary Mathematics and Science School.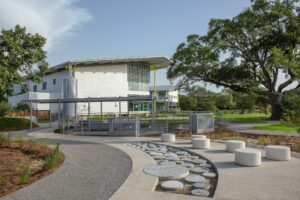 Louisiana Children's Museum
Category: Commercial/Sports/Entertainment/Hospitality (Constructed Value Under $50 Million)
Owner/Client: Louisiana Children's Museum
Final Construction Cost: $29.7 Million
Vanir provided construction management services for the new Louisiana Children's Museum (LCM) in New Orleans' City Park. The 56,000-square-foot, state-of-the-art museum is the result of 13 years of planning, 2 years of construction and a strong project delivery team.
"Vanir began to work with LCM on this unique project in January 2016 by providing estimating services and constructability reviews," said Allison Stouse, Project Director for LCM. "Those efforts proved critical to producing a clear set of bid documents and specifications for this complex building."
LCM, which is the first LEED-certified building in City Park, includes:
Five interactive exhibits on literacy, health, art, environmental education and STEM
Sensory and edible gardens
A floating classroom
An interpretive wetlands area
"Without the help of Vanir, LCM in City Park would have been over budget," said Stouse. "Time and again, [Vanir's] efforts were over and above my expectations. [The construction manager] and his Vanir support team were continually responsive, thoughtful and deliberate in all aspects of the project."
Congratulations and thank you to everyone who contributed to the success of these award-winning projects!