We are thrilled to report that Contra Costa County's new Administration Building and Emergency Operations Center have both received LEED Gold certification!
Administration Building
The four-story, 72,000-square-foot Administration Building is a community focal point and the new home of:
County Administration
County Counsel
Human Resources Department
Clerk of the Board
Board of Supervisor Offices
The facility also includes a new Board Assembly Chamber with capacity for 185 members of the general public and media, a conference and training center and dedicated space for staff interviews.
This "all-electric" project demonstrates the County's commitment to sustainability by achieving net annual energy consumption through the use of extensive photo voltaic panels that shade the adjacent 156-stall County parking lot.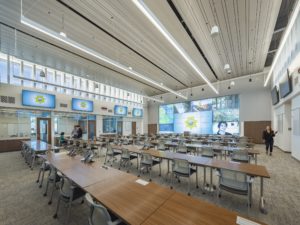 Emergency Operations Center
The 38,000-square-foot Emergency Operations Center, which is equipped with state-of-the-art disaster management and public safety technology, was designed to operate independently should city utilities become unavailable during an emergency.
Combining key operations into one centralized campus, the new building includes the County's Sheriff's administration, field operations, communications, coroner and emergency services divisions.
Most notably, the building features a Sheriff's situation center that contains a video wall (32 feet wide by 14 feet tall) composed of 48 LCD screens capable of displaying dozens of digital feeds and streams from other agencies.
It also features a conference room for 175 people on risers with a back wall (glass garage door) that opens up entirely to accommodate 100 more people in an indoor/outdoor space.
Congratulations to Contra Costa County, our Vanir team members and everyone else involved!